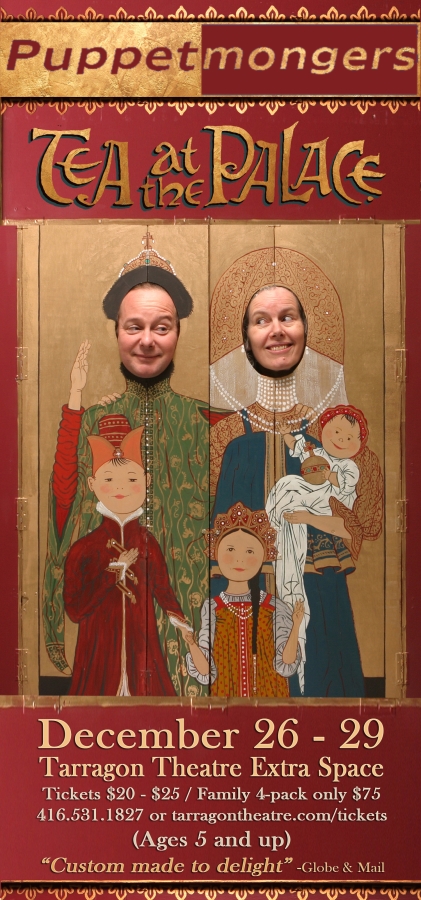 For a farewell run  – Come now or never! 
"Inventive! Imaginative! Sophisticated!"  Toronto Star
"Pure Charm! Sheer magic!"    CBC Radio
"A feast for the eyes!"     NOW Magazine
Tea at the Palace is a sumptuous and lively retelling of two intertwined medieval Russian folktales.    A hapless peasant is brought to the Tsar's court and charged with treason simply for making tea in a samovar. Meanwhile, the Tsar becomes smitten with a clever peasant girl when she arrives at court to request settlement of a dispute.  To thwart the budding romance, the Tsar's meddlesome servants resort to ridiculous antics, but are defeated at their own game when the Tsarina-to-be solves a series of riddles.
Staged in Puppetmongers' signature style with zest, humour and delightful ingenuity, the show features magical pop-up scenery and an array of puppets based on antique toys and dolls ranging from 6 inches to 6 feet tall!  Exuberant music by David Anderson and Nuno Cristo draws on Russian songs and folk instrumentation.
Tea at the Palace is suitable for ages 5 and up.
Tarragon Theatre Extra Space
30 Bridgman Avenue  (Bathurst & Dupont)
December 26 – 29, 2013 at 2 pm  
Tickets at Tarragon Theatre Box Office
416.531.1827 or  www.tarragontheatre.tickets.com
Adult $25    Child/senior/student $20
Family 4 pack only $75
EXTRA FUN !!!
Post-show Puppet Making Workshops
December 26, 27 & 28 only
For children 5 to 12 accompanied by a caregiver
Reservations at time of ticket purchase required.  Limited to 10 participants at $10 per child 
More info: www.puppetmongers.com or info@puppetmongers.com
"It's nice to know that thoughtful, gentle shows like this for children still exist"  Globe & Mail
_________________________________________________________________________
"…Puppetmongers, one of the most consistently delightful groups in the city. They work with great delicacy, wit and imagination, using carefully crafted puppets in charming stories."                                      Richard Ouzounian, Toronto Star
IIIIIIIIIIIIIIIIIIIIIIIIIIIIIIIIIIIIIIIIIIIIIIIIIIIIIIIIIIIIIIIIIIIIIIIIIIIIIIIIIIIIIIIIIIIIIIIIIIIIIIIIIIIIIIIIIIIIIIIIIIIIIIIIIIIIIIIIIIIIIIIIIIIIIIIIIIIIIIIIIIIIIIIIIIIIIIIIIIIIIIIIIIIIIIIII
Home           Current Season                 Productions                In Schools & Libraries

Commissions & Services          Puppetry Training          Contact Us