Puppetmongers present eight performances for school audiences in celebration of the culmination of Canada's Sesquicentennial
 At the Wychwood Theatre (601 Christie Street, just south of St Clair W.)
December 19 to 22, 2017,  at 10 a.m. & 1.30 p.m. daily
               Suitable for K to Grade 8, the play is approximately 45 minutes,                      with an optional Q&A to follow
"It was the best performance for students I have seen in 25 years of teaching!"      Grade 4 teacher, Charles Howitt P.S.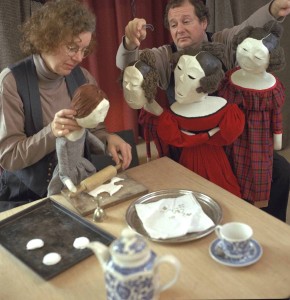 History and pure fun are integrated in this imaginative retelling of the classic fairy tale. Puppetmongers reset the story in 1834, just as "Muddy" York is to be renamed Toronto, and Ella is a kind and capable young girl whose good nature is imposed upon by her new step-family who have come from England with ideas about their own privilege. With a little magic and some imaginative special effects she does get herself to the Ball, and to the satisfying conclusion of the story. The play is ingeniously staged with a traditional marionette theatre that transforms, as the story unfolds, into scenes evoking the wilderness, pioneer life and early Canadian society. It is a Cinderella that Canadian children can call their own!
"It's lovely that gentle, intelligent shows for kids still exist."  Globe and Mail
Discount until November 15th, tickets are $10 each*;                                            or Book the Whole Theatre (100 seats) for $850.
After November 15th, tickets are $12 each*;                                                         or Book the Whole Theatre (100 seats) for $1,000.
*Each 25 seat booking includes 2 free Teacher Tickets (i.e. book 25, pay for 23)
_______________________________________________
For more information and reservations, please contact Ann at 416-538-6210 ann@puppetmongers.com
_______________________________________________
Arts Curriculum Connections:
Drama and Dance: Creative and critical thinking and analysis; understanding elements and conventions of drama; exploring forms and cultural contexts.  Visual Arts: Creative and critical thinking and analysis; understanding elements and principals of design. Cross-Curricular Connections: Language: Oral and verbal communication; reasoning and critical thinking. Science and Technology: Structures and mechanics. Social Studies: Heritage and citizenship; Canada and world connections.        Themes: Folktales; fables as life lessons; the art forms involved in puppetry.  Character Education: Humility, self-esteem, empathy, kindness and caring.
_______________________________________________
"Puppetry practiced at its finest" Winnipeg Free Press
Puppetmongers Theatre has been creating award-winning puppet theatre for school, family and adult audiences since 1974.  They have toured across North America, to Europe and the Middle East. The company has earned a reputation for exploring and expanding the idea of puppetry, and telling evocative and meaningful stories in innovative theatrical ways.
For more information, please visit us at www.puppetmongers.com
_______________________________________________