Puppetry just doesn't get much better than this!    The Puppetry Journal, USA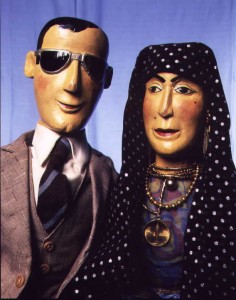 Available May 2014, for Asian Heritage Month 
FOR SCHOOLS: Grades 4 to 8,  Audience maximum 250                                               FOR LIBRARIES:  Ages 8 and up
Approximately 45 minutes, plus optional post-performance Q & A.
More information and booking: Mariposa In The Schools (MITS) at 416-462-9400 Limited subsidy is available: contact MITS early
________________________________________________________________________
Walidad the Grass Cutter tells the moving tale of a humble man whose generosity inadvertently draws him into a heady and dangerous world of powerful people and high finance.  The story is resolved as each character finds their own personal definition of happiness.  Performed with delicately carved wood rod marionettes and traditional Persian music, the play is a celebration of the richness of Persian culture and shows a very different aspect of the middle-east rarely portrayed in the media.
In 1976 Puppetmongers toured in Iran with their show The Miller.  Touched by the country and its people, Ann and David were inspired to create Walidad the Grass Cutter, based on their experiences and observations of an ancient culture adapting to a modern world.  In 2004, Puppetmongers returned to Iran to perform Walidad at the 10th Tehran International Puppet Theatre Festival, to enthusiastically appreciative audiences.  
This production is a recipient of a Citation for Excellence in the Art of Puppetry from l'Union International de la Marionette- USA
________________________________________________________________
Irresistible. The simple puppets are remarkably expressive.   The Globe and Mail
Very sophisticated… a delight…      Animations, London, UK
________________________________________________________________
Curriculum connections: Dramatic Arts, Language Arts, Social Studies, Visual Arts
Character education: Kindness and Cooperation
Sample Social Studies Expectations: Grade 4: Heritage and Identity: Early Societies, 3000 BCE- 15000 CE:  Describe significant aspects of daily life in two or more early societies (A3.3, Grade 4)
________________________________________________________________
Tech requirements:
Performing area: 6m wide x 4m deep x 2.7m ceiling
Requires a raised stage or bleacher seating if the audience is over 60 people
Set-up time: 60 minutes: Load-out time: 60 minutes.
Total time in the venue is 3 hours.
We bring sound and lighting equipment, requiring one standard 120 volt outlet.
Please note that the show works best in a darkened venue.
Personnel:  2 performers
________________________________________________________________
________________________________________________________________
For information and to book, contact  Mariposa In The Schools (MITS) at 416-462-9400         *Limited subsidy is available: contact MITS early*
________________________________________________________________
Puppetmongers are available for in-class puppetry workshops                             Inquiries to Ann Powell at   ann@puppetmongers.com     416-538-6210
IIIIIIIIIIIIIIIIIIIIIIIIIIIIIIIIIIIIIIIIIIIIIIIIIIIIIIIIIIIIIIIIIIIIIIIIIIIIIIIIIIIIIIIIIIIIIIIIIIIIIIIIIIIIIIIIIIIIIIIIIIIIIIIIIIIIIIIIIIIIIIIIIIIIIIIIIIIIIIIIIIIIIIIIIIIIIIIIIIIIIIIIIIIIIIIIII
Home             Current Season                Productions                In the Schools