"Held a group of 150 students in rapt attention on a Friday afternoon!"                     Kew Beach P.S.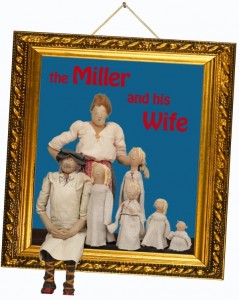 March 5 to 7, 2014 – The week before March Break.  Suitable for grades 4 through 8
 At Theatre Passe Muraille BackSpace for School Groups
________________________________________________________________________
The Miller and His Wife is our adaptation of two classic folktales about power, bullying and trickery; about the "little guy" standing up to mistreatment by someone bigger, or wealthier, or just plain greedy.
The first tale is known around the world in various guises – Hans Christian Anderson called it "Big Klaus and Little Klaus", an Irish version is called "Hudden and Dudden and Donnal O'Neary", and variations are found in France, India, Korea and almost everywhere. The second tale is an Irish one about outwitting the "little folk", who we replace with royalty and a palace.
And tying it all together is the puppet family of the Miller, his Wife, and their five children who collaborate to outwit a bullying neighbour and a power hungry civil servant.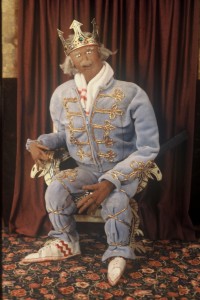 Puppetmongers created The Miller in 1974 and The Miller's Wife in 1976.  In these combined plays, the two performers bring to life a heart-warming cast of nineteen characters, animating the puppets while remaining in full view of the audience.  They make all the puppets' voices, they narrate, and even act as pieces of the scenery from time to time.
These retold tales encourage critical thinking, exploring the grey area between Good and Bad, Right and Wrong. The program encourages story extensions and play-making, and inspires student puppet-making creativity.
The Miller & his Wife has been awarded a Citation for Excellence in the Art of Puppetry from l'Union International de la Marionette, USA branch, and has toured Canada, the USA, Britain, Europe and Iran, tickling the imaginations of audiences everywhere.
_________________________________________________________________________
Themes: Bullying, Greed for Power
Character Education Connections:  Integrity, fairness and co-operation.
Curriculum Connections:  Dramatic Arts, Visual Arts, Language Arts, Social Studies.
"High quality performance.  The enriched vocabulary used is a very necessary element to the development of language skills."   Blake P.S.
_________________________________________________________________________
The performance is 60 minutes, with an optional Q&A to follow.
March 5 – 7, 2014.  Shows available at 10 a.m and 1:30 p.m.
At Theatre Passe Muraille BackSpace  
16 Ryerson Avenue, Toronto (Queen and Bathurst).
Ticket Prices: $8 each, or $400 for all 60 seats
 Suitable for grades 3 through 6
Contact Ann at  ann@puppetmongers.com  416-538-6210
IIIIIIIIIIIIIIIIIIIIIIIIIIIIIIIIIIIIIIIIIIIIIIIIIIIIIIIIIIIIIIIIIIIIIIIIIIIIIIIIIIIIIIIIIIIIIIIIIIIIIIIIIIIIIIIIIIIIIIIIIIIIIIIIIIIIIIIIIIIIIIIIIIIIIIIIIIIIIIIIIIIIIIIIIIIIIIIIIIIIIIIIIIIIIII
Home           Current Season                 Productions               In Schools & Libraries

Commissions & Services          Puppetry Training          Contact Us