We are delighted to celebrate Canada's Sesquicentennial and our own 28th Annual Winter Holiday Show by sharing the stage with Solar Stage Theatre with performances of
 Recommended for  families with children aged 5 and older!
All tickets $20.00 – Solar Stage Box Office or call 416-368-8031
"It's lovely that gentle, intelligent shows for kids still exist."  Globe and Mail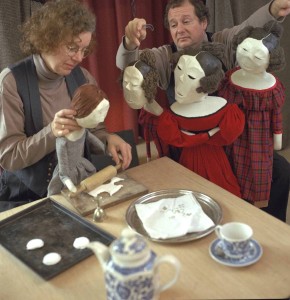 History and pure fun are integrated in this imaginative retelling of the classic fairy tale. We've reset the story in 1834, just as "Muddy" York is to be renamed Toronto, and Ella is a kind and capable young girl whose good nature is imposed upon by her new step-family who have come from England with ideas about their own privilege. With a little magic and some imaginative special effects she does get herself to the Ball, and to the satisfying conclusion of the story. The play is ingeniously staged with a traditional marionette theatre that transforms, as the story unfolds, into scenes evoking the wilderness, pioneer life and early Canadian society. It is a Cinderella that Canadian children can call their own!
 "The Powells are storytellers of boundless imagination" Stage Door, Toronto
 Our version of the Cinderella story is told without mice, frogs or birds; no-one breaks into song and dance (well, there are dancers and dances at the ball, of course); and Ella and her "prince" are drawn together, not by a pretty dress and hairdo, but by their shared curiosity and excitement about life in this "new" land.
"This show is magic for everybody." Lynn Slotkin, CBC Here and Now
The Details:
December 26th to 31st, daily at 11 a.m.
At the Wychwood Theatre  (601 Christie Street (just south of St Clair)
All tickets $20.00 – Solar Stage Box Office or call 416-368-8031
 "Puppetry practiced at its finest" Winnipeg Free Press